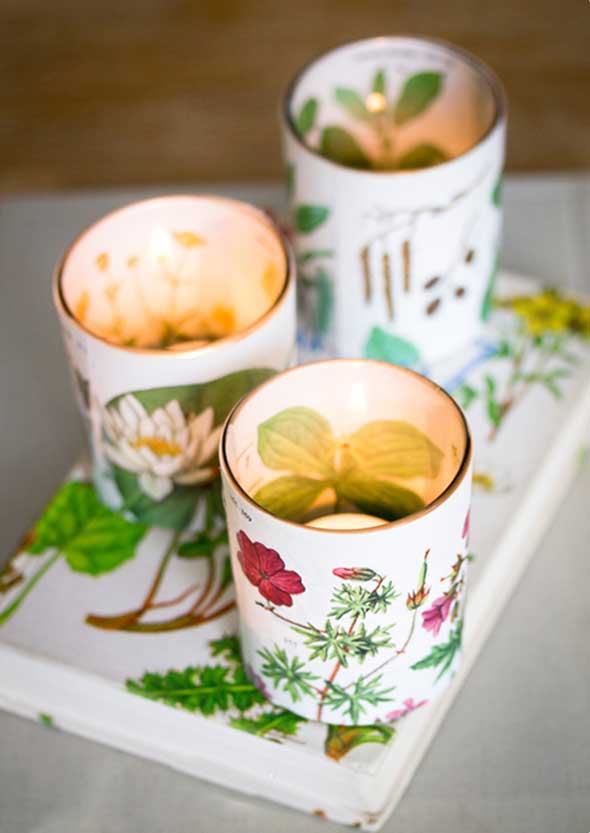 Every time I throw a party, I buy new decorations, because I would never risk reusing something that might throw off the effect, like Halloween napkins at a Bastille Day party. Can you imagine how awful that would look? How embarrassing. Unfortunately, this means that I have a huge collection of leftover napkins, that I can't use for anything except to découpage stuff. Which is what we're going to to now.
I fancy myself a bit of a découpeur. It's a useful skill, especially if you don't have a lot of money but do have a lot of old maps or sheet music or napkins. I have tons of all three, so obviously there's a lot of découpaging going on around here. Ready to boost your self-esteem sky high? Me too. This will be fun.
Gather your votives and some gloss varnish. I borrow mine from Pepito, because he varnishes a lot of stuff but you can get it at any art supply store. Wash the votives if you live in a château that's covered in dust. If you live in America and use hand-sanitizer, your votives are clean enough. Maybe too clean. Cut your napkin to size, and spread the varnish all over the outside with a small brush or your finger if you like to work with your hands. Press the napkin into the votive. Be sure to unfold it so that it's single-ply or this will be a very bad experience. Repeat with the varnish process, thoroughly coating the napkin. After the varnish is dry, if you want to be fancy (you do) apply a bit of gold leaf around the top.
That's it! Next time, you can use that map of the Toucouleur Empire. Off to lounge.
Love,
Madeline